Last year, my Mom and I joined my Dad in California during the summer vacation. We started from Delhi, India late night and flew to Los Angeles. My Dad came to pick us up and we drove to Orange County where we had an apartment. The drive was fast with wide roads and big cars. We were tired and had jet lag -- my Mom even slept for the next 24 hours. After that, Dad made arrangements and we got season tickets for the famous amusement parks of Los Angles – Six Flags, Disneyland, Universal Studio, and even SeaWorld in San Diego. We went to each park and spent the entire day enjoying it, then we would take a break for two days and then hop back on to the next amusement park.
Six Flags Magic Mountain had over a hundred rides with some of the biggest Roller Coasters I have ever seen.
DisneyLand had a lot of fun filled rides and we really enjoyed the Nemo Ride (a submarine experience), Pirates of the Caribbean (a boat ride), and Splash Mountain was a free fall boat ride. There were other rides like California Screamin', a looping rollercoaster and I had a fantastic time.
In Universal Studio, I saw how rain, car crash, and air crash effects are created for movies. I also saw the sets where 'SpiderMan' movies are made. I saw Mr Bean's' Car, too. We also experienced a live show of 'Fear Factor.' There we enjoyed a ride about the mummies, 'The Mummy Returns-Chamber of Doom' and 'JurassicPark.'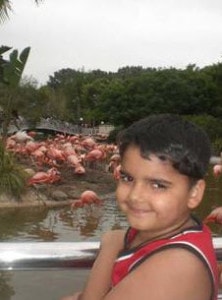 We visited the 'San Diego SeaWorld where we saw a lot of Dolphin shows and one show by 'Shamu – the famous killer whale. We also had a 4D movie experience in the 'Haunted House' where the effects made us feel that rats were everywhere in the hall. We also saw an effect where a snake seemed to strike out of the screen and come into the audience. We enjoyed a simulated helicopter ride to the Antarctic Glaciers.
Apart from these amusement parks, we would also go to some of the best beaches of Southern California like Long Beach, Huntington beach, Newport Beach, and Laguna Beach. It was fun and I enjoyed my first experience of the sea and its sands.
We also went shopping to Hollywood and had a glimpse of Beverly Hills. I saw 'Ripley's Believe it or Not' museum in Hollywood
Then my vacation time was over and we had to fly back so that I could go to school. My Dad drove us again to the LA Airport and when we were about to cross the security barrier, I could not help myself and started to cry remembering all the good times I had with my parents. I pleaded with my Mom requesting her to extend our stay but she convinced me that going back to school was more important. We arrived late at night at the Delhi Airport and the next day -- even after being so tired -- I went back to school. This is how my story of my happiest vacation ends.
Moral of the story: Vacations are fun, but school is equally important.
2008© Anirudh Bhat, India